YOUR JOURNEY BEGINS
Curtains rise. That's your cue that your journey at the Indian Heritage Centre has begun. A cast of familiar characters, comprising local actors and dancers, take centrestage in an immersive multimedia show introducing you to five of our permanent galleries spanning the 1st century CE to the 21st century. Come along with us, there's lots of ground to cover!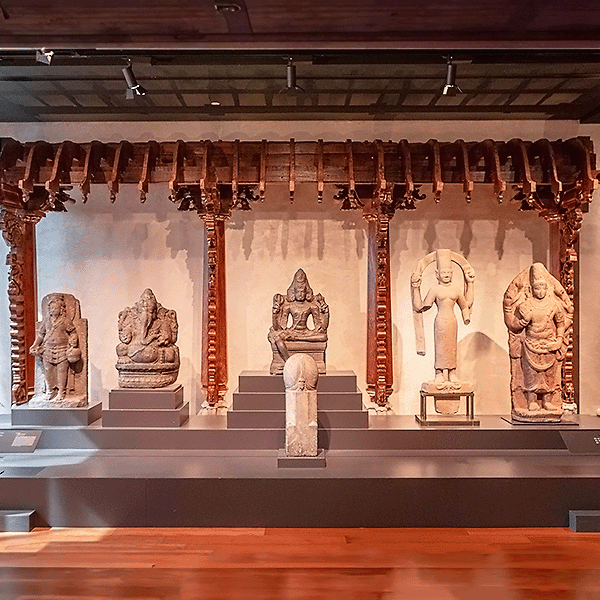 EARLY CONTACT: INTERACTIONS BETWEEN SOUTH AND SOUTHEAST ASIA
1st century CE to 19th century
Replete with exquisite ancient sculptures, this gallery unravels the multifarious threads of fascinating centuries-old interactions between South Asian and Southeast Asian cultures.
It offers a glimpse into some of the complex cross-cultural exchanges and intriguing intersections between religious influences and maritime trade routes of yesteryear.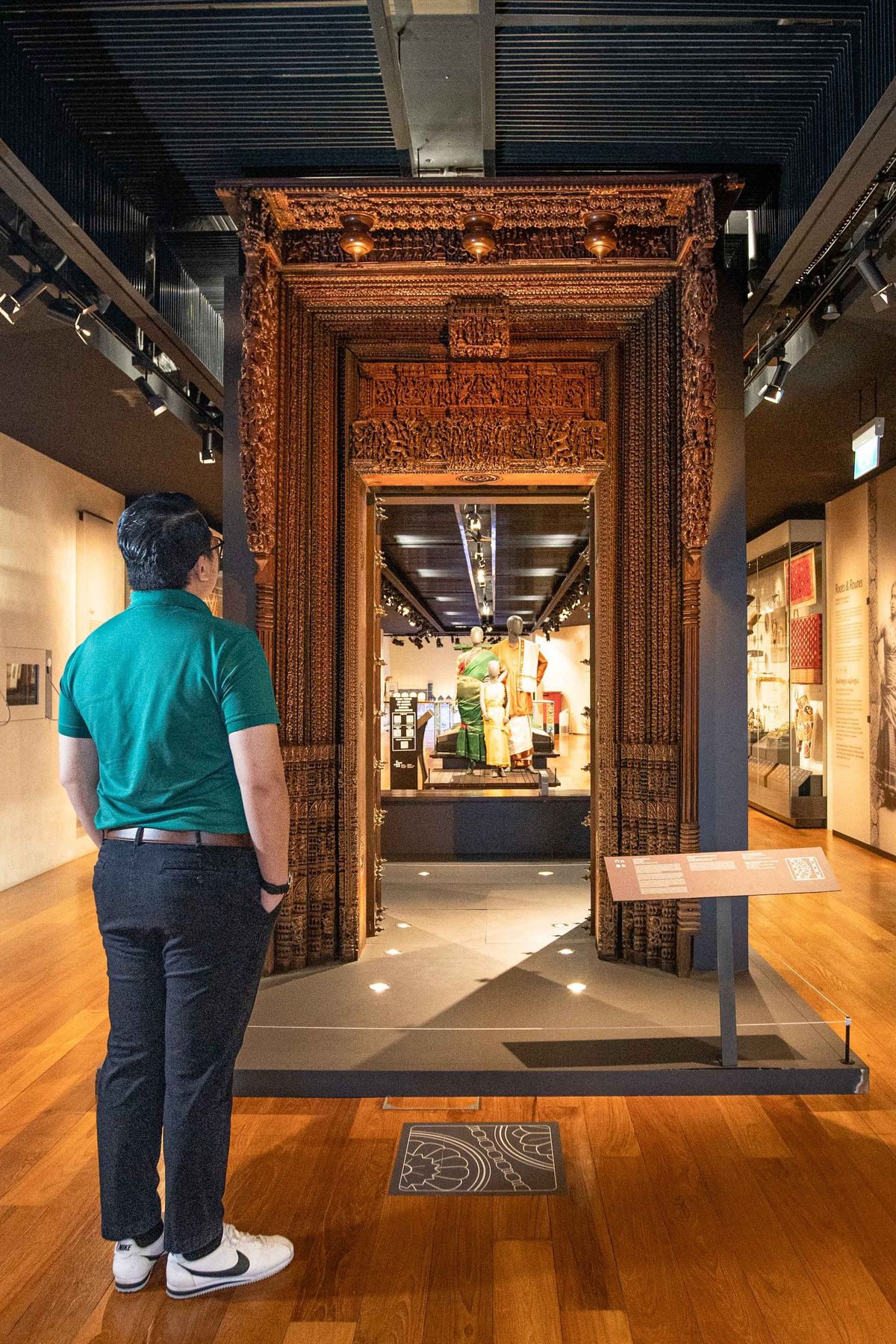 ROOTS AND ROUTES: ORIGINS AND MIGRATION
19th to 21st centuries
The grand entrance of a Chettinad residence greets you as you begin your explorations of our second gallery. Dense with intricate carvings of human figures and religious motifs, the magnificent wooden door invites you to take a step back into the past to discover the diverse, layered and personal stories of migration.
Settlers and their varied rites of passage, language, religious affiliations, attire, artistic endeavours and festivals are represented in our gallery. Stunning displays of ceremonial gold, rubies and textiles await your discovery.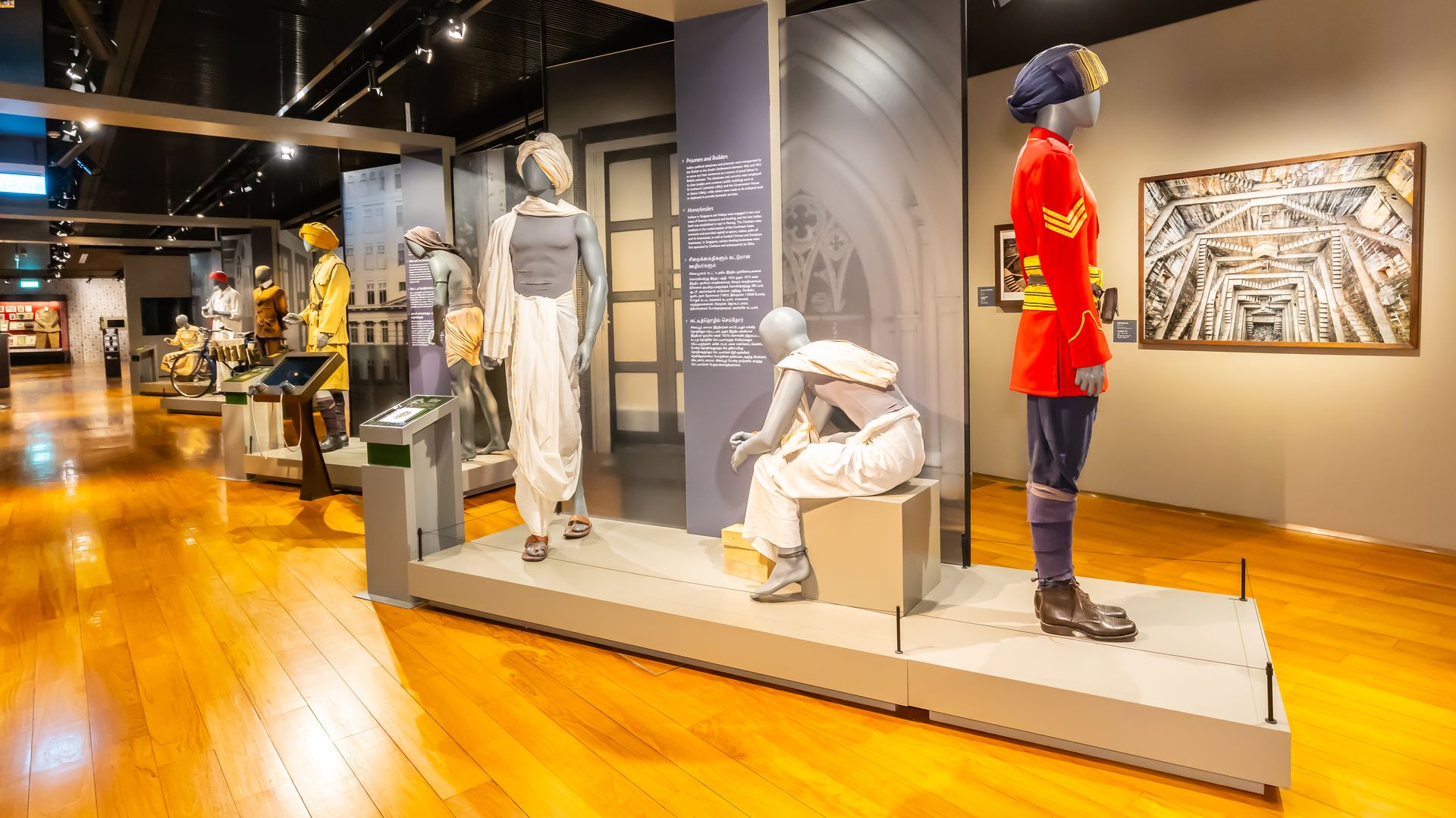 PIONEERS: EARLY INDIANS IN SINGAPORE AND MALAYA
19th to mid-20th century
Stories of pioneers like Navroji R. Mistri, godfather of the poor, and William Lawrence Soma Basapa who started Singapore's 1st zoo, grace the walls of our 3rd gallery where we highlight the lives and outstanding contributions of some of our early settlers. 
It is also here that we showcase the roles of pioneering institutions such as Tamil schools, media organisations, religious monuments and social organisations. 
Our community mural, a labour of love by artist Navin Rawanchaikul, is another highlight in this gallery. The billboard-style panorama features the faces of Little India's community stalwarts and long-standing Indian businesses against the backdrop of the precinct's architectural icons.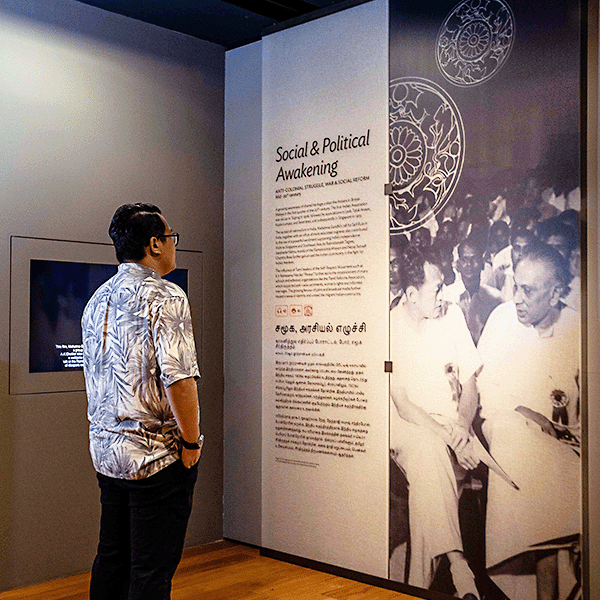 SOCIAL AND POLITICAL AWAKENING OF INDIANS IN SINGAPORE AND MALAYA
Mid-20th century
Mounting anti-colonial sentiments gave rise to nationalist movements which enveloped much of India and rippled through Singapore and Malaya. Our 4th gallery examines the effects of these stirrings.
We go on to discuss the aftermath of World War II on the local Indian community and how it culminated in the emergence of social reform movements led by key community leaders such as Thamizhavel G. Sarangapany.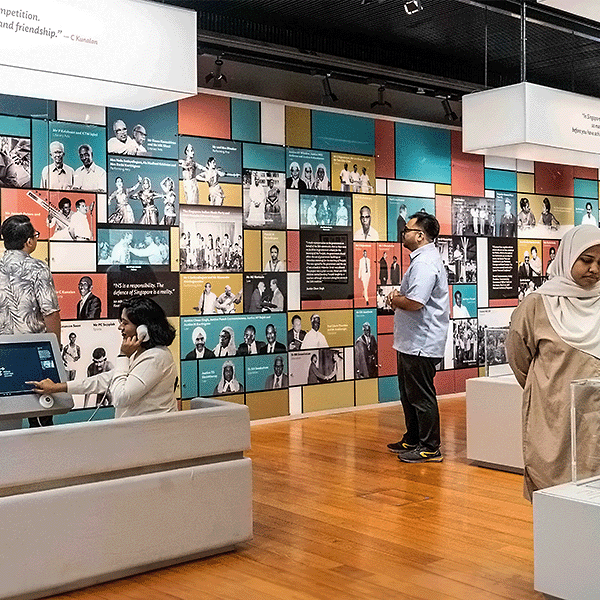 MAKING OF THE NATION: CONTRIBUTIONS OF INDIANS IN SINGAPORE
Late 1950s – Present
"My generation did not begin as Singaporeans. I myself started out as a Malacca-born British subject of Indian origin. But our children are all Singaporeans. They feel like Singaporeans, comport themselves like Singaporeans, and eat and live like Singaporeans." - Devan Nair
The final gallery pays homage to the scores of movers and shakers in the Indian community who have contributed to the multicultural and meritocratic fabric of our society as well as nation-building efforts in myriad ways across diverse fields and occupations. 
Join us as we look back at our recent history with an eye on the future.
Related Activities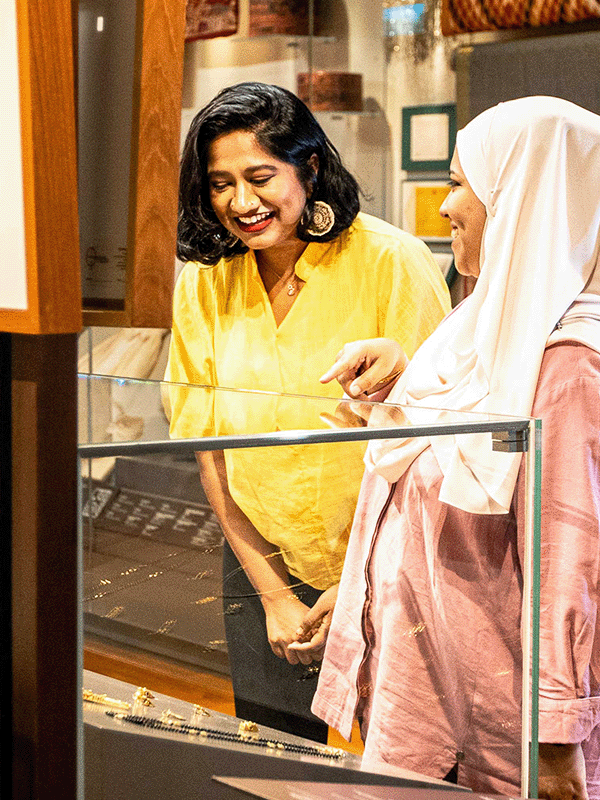 Guided Tour
Get whisked away to yesteryear on one of our guided tours. Our crew of dedicated docents are on hand to take you on a nuanced journey through time. With a guide at your side, you'll get to learn more about the scholarly research powering our galleries and glean deeper insight into the artefacts in our midst.